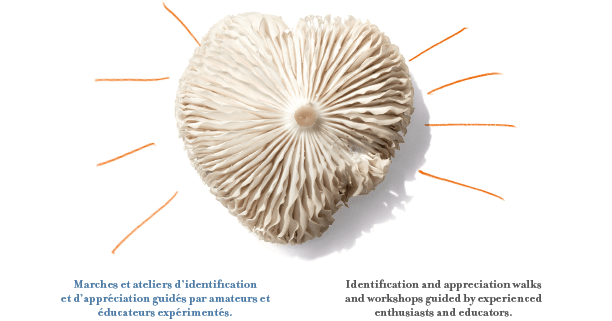 Conference with Nicolas von Caloen, Mycotrophe (Bilingual)
Thursday October 6th at 7:00 p.m.. at La Cie Vilandré, 3050 Capelton Rd., North Hatley
https://goo.gl/maps/14dp9cSfLSihoZm77
Tickets: $5
Food and drinks are not included. Come support the pub and buy a meal before the conference or have a drink during the conference.
Presentation on the Fungal World, Cultivation and Mycorremediation
We will talk about the different aspects of the life of a fungus, its cultivation and its roles in ecosystems as well as the ability of fungi to decontaminate the environment with Nicolas van Caloen
Mycoremediation
Mycoremediation is the set of techniques using one or more species of fungi to decontaminate an environment (water, soil) from one or more pollutants or undesirable chemical elements.
Mycoremediation techniques are promising, as several species of fungi are known to have the potential to degrade various contaminants, including petroleum hydrocarbons. Over the past few decades, a large number of scientists have studied the extraordinary remediation capacity of fungi.
Mycotrophe is currently working on specializing fungi for the decontamination of heavy hydrocarbons (C10 – C50).
About Nicolas van Caloen
B.A. in economics and certificate in ecology, (UQAM and University of Buenos-Aires).
Mycoculturist for 7 years, he has worked hard to find new ways of production that allow us to move towards the ecological transition in an economy of solidarity. He has a degree in economics, a certificate in ecology, a specialization in economic alternatives and in the analysis of economic violence, including a year of study in Latin America and more specifically at the University of Buenos Aires, Argentina.  He grew up on farms where he learned about agriculture from a very young age. He is passionate about mushrooms and biology.
https://www.facebook.com/mycotrophe
https://www.mycotrophe.com/mycoremediation