Migrations in Motion
© Nature Conservancy
 Reproduced from an article from the Nature Conservancy. Justine E. Hausheer
Justine E. Hausheer is an award-winning science writer for The Nature Conservancy.
Reading Time : 3-4 minutes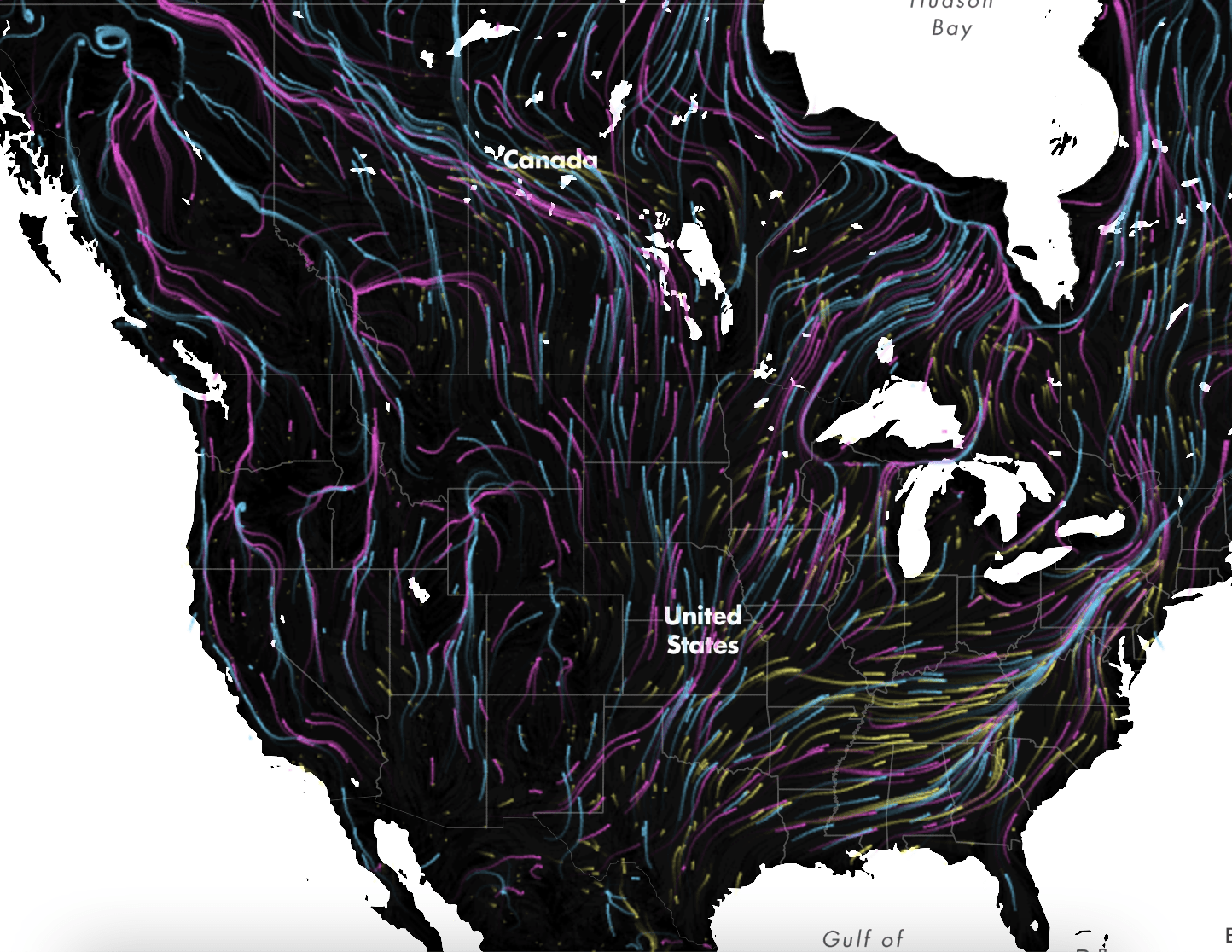 Justine writes :
New research from Conservancy and university scientists revealed that only 41 percent of the natural land area in the United States retains enough connectivity to facilitate species tracking their preferred climate conditions as the global climate changes. As part of that study, scientists modeled the distribution and habitat needs of 2,903 vertebrate species in the Western hemisphere against land use and projected climate patterns.
Conservancy cartographer and analyst Dan Majka brought this data to life in a series of maps that show what corridors mammals, amphibians, and other animals will use as they move to new habitats under projected climate change. Inspired by wind maps of the United States, and using code from Earth global wind map, adapted by Chris Helm, Majka's dynamic map allows scientists and the public to see the continent-wide impact of climate change on animals and visualize corridors they will need to move.
The question is, as the animals move to find new habitat because their old habitats are changing due to climate change, where will they go and how will humans interact with them? Looking at the map for the southern part of Quebec, the most heavily populated part of the province, you see the density of the animal migration in this sector.
How can we help?
COP15, the United Nations Biodiversity conference which took place in Montreal in December, concluded with a landmark agreement to protect 30% of the world's inland waters, land and coastal areas by 2030.
This is a BIG ambitious goal which can cause people to have environmental anxiety.
What if we break it down and see what each community can do in their own backyard?
The Massawippi Conservation Trust (MCT) has been working on land conservation projects since 2011. Together with Appalachian Corridor (est. 2002) and 16 other conservation groups, we are raising awareness, hosting research projects, protecting land through donations, purchases and servitudes. We are building education programs to teach and grow a community of future conservationists.
The majority of the land that we have protected to date is connected, creating a `corridor` for flora and fauna. As we continue to grow, we are looking for more connectivity. We started in an area identified by Appalachian Corridor as being the most vulnerable to human development. These lands, with a very high ecological value, needed urgent attention before they would be lost.
Who protected them? A group of concerned individuals, not scientists, not environmentalists, but people who knew in their hearts that the Massawippi Valley was a special place that needed to be protected for the benefit of all – environmentally, aesthetically and historically.
Although the MCT trustees and Fondation Massawippi Foundation (FMF) board members have changed over time, the current members of the board are still passionate volunteers who bring to the table various skills. We have learned to identify and recognize problematic areas. We are working with our various partners, municipal governments, and other NGOs to see how we can protect more land or change the way we care for the land.
The benefits of ensuring private land conservation in conjunction with local and national conservation projects help mitigate the effects of climate change. Individuals have so much to contribute in terms of helping to regulate water quality and protect irreplaceable natural zones and ecosystems. Achieving objectives in the southern portion of Quebec depends on the contribution of private individuals and local land trusts. After all, most of the land is privately owned.
Some statistics on the land usage of the Massawippi Watershed
512 kms2 in Canada (another 90 kms2 in Vermont)
8.17 kms2 Lake Massawippi
239.6 kms2 of forested land
187.8 kms2 of agricultural land
4,86 kms2 protected by the Massawippi Conservation Trust
We have a long way to go; however, we are making progress. Some conserved lands are providing access to forests and lands for recreational activities and education, contributing to human health and well-being, as well as protecting environmentally sensitive lands, home for insects, birds, and other flora and fauna.  Others are being left untouched for the exclusive use of wildlife.
Climate change is global, meaningful action is local.
COP15 global 30/30, MCT and FMF in the Massawippi Valley 30/30
https://massawippi.org/wp-content/uploads/2023/03/fdfed9b9-d666-dd7e-07ac-5d3e51b2cfc3.png
1116
1444
massaadmin
https://massawippi.org/wp-content/uploads/2019/04/long-logo.png
massaadmin
2023-03-15 23:59:38
2023-03-16 00:12:19
Migrations in Motion