Turtles and the Tomifobia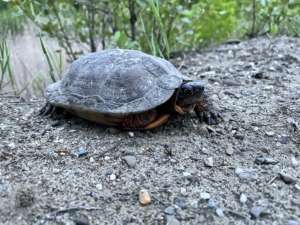 Every spring, when the temperatures start to warm up, the turtles get busy, so we can get a good look at them. Because turtles are cold-blooded animals, they try to optimise their metabolism by finding warmth. You can therefore see turtles well exposed to the sun on sandbanks by the river or on branches emerging from the water.
The egg-laying season soon begins, towards the end of May and at least in June. The adult females will therefore put themselves at risk to find an interesting egg-laying site. Ideally, they will look for a natural site consisting of sand and/or gravel on the banks of the river or body of water where they live. Adult females of several species, notably the snapping turtle, the painted turtle, and the wood turtle (species present in our sector) will sometimes look for nesting sites along roadsides, footpaths, or even in active sandpits. Obviously, this behaviour puts them at high risk of mortality from collisions with cars or machinery. This is a major cause of turtle mortality and does not help to maintain healthy populations.
How can we help them stay safe and sound during this period? By simply being vigilant! Whether you're driving, walking or cycling on structures bordering lakes, rivers, ponds or wetlands, you can remain vigilant for the presence of turtles and react appropriately if they are present. You can slow down and let them continue on their way, warning other motorists of their presence for example. In an immediate emergency, you can help it cross the road, always in the same direction it was going. It is vital not to put the animal back in the water or move it to another location. You can also take a photo and report its presence on the www.carapace.ca website. Reporting turtles to the carapace.ca project is particularly important for local stakeholders, who can find out more about problem areas. It also gives them more data and more leverage to convince the authorities when it comes to planning developments.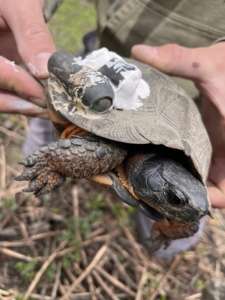 Several species of turtle are in trouble in Quebec, including the wood turtle, which has been designated vulnerable. A number of factors are involved, including deaths caused by machinery or cars, but also by the destruction or modification of its habitat, heavy predation and, unfortunately, the collection of individuals for resale or keeping in captivity.
This is also the case for the Tomifobia river population, which remains small despite its high-quality habitat. We suspect that occasional anthropogenic deaths caused by cars, but mainly by farm machinery, combined with low recruitment of young due to high nest predation, are factors that could explain the current low numbers in the Tomifobia River population. The COGESAF team, therefore, has a project underway to better understand these dynamics and propose solutions to reduce the risk of mortality, mainly for adult females.
One aspect of this project is to monitor the movements of five turtles fitted with a radio transmitter and a GPS sensor, enabling us to track their movements on a daily basis. Preliminary data shows that our turtles do cross roads and farm fields, making them vulnerable to collisions.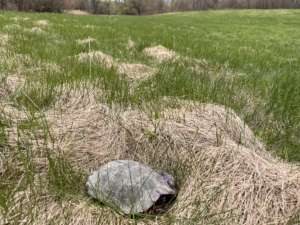 We can remain positive about the fate of the Tomifobia River population because a number of conservation organizations have been working on it for a number of years! What's more, as we mentioned, the habitat for this population is of high quality. We will be proposing to the farmers concerned that the mowing height be raised to 10 cm to reduce the risk of mortality for this vulnerable species. We also suggest that you keep your eyes open and remain vigilant when travelling by car in this sector!
Nicolas Bousquet, biol.,
Field Project Coordinator
5182, boul Bourque
Sherbrooke (Québec) J1N 1H4
Phone 819-864-1033 poste 103
https://massawippi.org/wp-content/uploads/2023/06/image00016-scaled.jpeg
1920
2560
Helene Hamel
https://massawippi.org/wp-content/uploads/2019/04/long-logo.png
Helene Hamel
2023-06-06 17:34:08
2023-06-08 21:36:53
Turtles and the Tomifobia