Mushroom Madness Week
October 1 – 9th, 2022
An autumnal celebration of the wonderful world of fungi.
Fees in support of the Massawippi Conservation Trust's educational fund.
See details below for guided walks,  lecture, art show and mushroom tasting.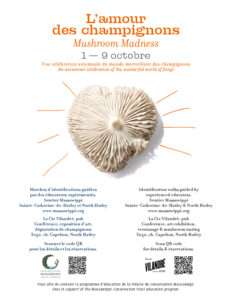 Mushroom walk and journaling with Jessica Adams (Nature Nerding) (Bilingual)
Saturday, October 1st 9:30 – 11:30 at Sentier Massawippi, Cote du Piémont, Sainte-Catherine-de-Hatley
Friday, October 7th 9:30- 11:30 at Sentier Massawippi, Cote du Piémont, Sainte-Catherine-de-Hatley
https://goo.gl/maps/T4TCTaKLWr1f6igH6
Tickets: $20
Before so much was known about mushrooms and about wild species in general, scientists relied on their insatiable curiosity and keen observation skills to get to know the natural world around them.
This is a contemplative nature walk with a specific focus on noticing and documenting the diversity of mushrooms. Part appreciation activity and part nature journaling and citizen science activity.
There will be some repetition between activities to allow for practice and consolidation of learning, however the path will be different and new approaches or activities will be explored. Different trails will be explored.
a nature walk focusing on mushrooms
hone our observation skills
deepen your connection with the natural world
nature journaling
learn about iNaturalist
About Jessica Adams
BSc Wildlife Biology and MA Environmental Education and Communication
I am a true Nerd in every sense of the word. I am on a mission to spark wonder and curiosity in those around me. Having worked both as an education program coordinator and school teacher, I have a deep appreciation for the different forms of and contexts for learning. Seeing others have a 'Wow' moment in nature brings me so much joy.
Join biologist and nature educator Jessica Adams on a contemplative nature walk with specific focus on noticing and documenting the diversity of mushrooms! Part appreciation activity and part nature journaling and citizen activity*, this experience will help you hone your observation skills and deepen your connection with the natural world. *This is not strictly for artists! Nature journaling invites everyone to tap into his or her ability to observe and record. For those with access to a cell phone, we will learn about and use the application iNaturalist.
Mushroom Identification and Art Activity. Rebecca Soulis & Jason Campbell (Bilingual. Open to all ages.)
Sunday, October 2nd  10:00 – 12:00 at SCOWEN PARK, ch. Capelton, North Hatley
https://goo.gl/maps/Wma6CmSFGYiCAN5h9
Tickets: $20
a mushroom hunt
how to look for mushrooms
observing and identifying the parts of a mushroom, mycelium, and spores
information about mushrooms the different families & characteristics
art activity, representing a mushroom through drawing, painting or sculpture
About Rebecca Soulis Nature, Art & Wellness Educator, Nature Nerding co-founder I am a nature enthusiast who has spent numerous years designing, coordinating and leading activities for and in outdoor settings. Guiding people through educational experiences revolving around nature, art, wellness is central to my work. I have a strong background in leading experiential learning activities. I'm especially interested in how art can create and strengthen one's connection with the natural world and how it can nurture people's capacity to imagine and increase their sense of belonging. I live in the Eastern Townships with my husband and two children. I can't wait to explore the wonderful world of mushrooms with you! https://www.facebook.com/nature.nerding https://artistsinspire.ca/artist/rebecca-soulis/
About Jason Campbell Jason is a bilingual birder and nature lover with an infectious enthusiasm for nature. A resident of the Eastern Townships who is out on most mornings in the spring exploring different areas looking and listening for birds. Jason also has an interest in fungi and foraging for edible mushrooms. Jason leads nature hikes for elementary school classes, and with adults via suttonbirds.com and with the Club des ornithologues de Brome-Missisquoi Inc. (COBM). Jason currently is on the board of directors of the COBM. See articles that Jason wrote for LE TOUR: My Introduction to Birds and Introduction à l'ornithologie and Recognizing Birds: Warblers.
Conference with Nicolas von Caloen, Mycotrophe (Bilingual)
Thursday October 6th at 7:00 p.m.. at La Cie Vilandré, 3050 Capelton Rd., North Hatley
https://goo.gl/maps/14dp9cSfLSihoZm77
Tickets: $5
Food and drinks are not included. Come support the pub and buy a meal before the conference or have a drink during the conference.
Presentation on the Fungal World, Cultivation and Mycorremediation
We will talk about the different aspects of the life of a fungus, its cultivation and its roles in ecosystems as well as the ability of fungi to decontaminate the environment with Nicolas van Caloen
Mycoremediation
Mycoremediation is the set of techniques using one or more species of fungi to decontaminate an environment (water, soil) from one or more pollutants or undesirable chemical elements.
Mycoremediation techniques are promising, as several species of fungi are known to have the potential to degrade various contaminants, including petroleum hydrocarbons. Over the past few decades, a large number of scientists have studied the extraordinary remediation capacity of fungi.
Mycotrophe is currently working on specializing fungi for the decontamination of heavy hydrocarbons (C10 – C50).
About Nicolas van Caloen
B.A. in economics and certificate in ecology, (UQAM and University of Buenos-Aires).
Mycoculturist for 7 years, he has worked hard to find new ways of production that allow us to move towards the ecological transition in an economy of solidarity. He has a degree in economics, a certificate in ecology, a specialization in economic alternatives and in the analysis of economic violence, including a year of study in Latin America and more specifically at the University of Buenos Aires, Argentina.  He grew up on farms where he learned about agriculture from a very young age. He is passionate about mushrooms and biology.
https://www.facebook.com/mycotrophe
https://www.mycotrophe.com/mycoremediation
Taste the art and the mushrooms! Art exhibition of drawings by artist Louise Marois starting October 1st and continuing until mid December.
Vernissage and Mushroom Tasting
Friday, October 7th 5:00 – 7:00 p.m. at La Cie Vilandré, 3050, ch. Capelton, North Hatley
https://goo.gl/maps/14dp9cSfLSihoZm77
Tickets: Free but limited to 50. Reservations required.
A unique opportunity to meet and mingle with the artist, taste mushrooms while sharing in the mutual curiosity of the natural world. Buy your own beverage. This event is a fundraiser for the Massawippi Conservation Trust education programming. Volunteer donations are welcome.
About Louise
Louise Marois was born in Montreal where she trained as a graphic designer.
She now lives in Estrie, in Saint-Venant-de-Paquette. Her first collection, La peau des yeux, received the Jacqueline-Déry-Mochon Prize in 2004. La cuisine mortuaire and D'une caresse patentée are finalists for the Governor General's Literary Awards – Poetry category, in 2019 and 2020. Today, she devotes herself entirely to the art of drawing and writing.
This exhibition offers two separate sections of graphite drawings on paper, one on mushrooms and a second on various plants.
Ecological concern is at the center of this new corpus, the artist inviting the visitor to wonder about what awaits us in the near future.
The artist would like to warmly thank the Massawippi foundation as well as La Cie Vilandré for their welcome and their dynamism.
Mushroom Dome, Graphite on paper
56 x 76 cm, 2022
Our partner and the location of our indoor events
La Cie Vilandré recently opened in North Hatley. Located on Capelton Road this charming pub is owned and operated by Elyse and her 2 partners who care about the community they have adopted. We would like to thank the owners for the generous offer of the space to host our exhibition and activities
Cie Vilandré is a family business with a passion for the restaurant and beer business. Originally founded in 1911 by Oscar Vilandré in Wotton, it was relaunched in 2022 as a pub in the picturesque village of North Hatley. The pub offers a great selection of microbrewery beers and privately imported wines along with dynamic cuisine.
Throughout the Mushroom Madness event they are donating a percentage of the sales of all mushroom items sold from the menu between October 1 and 9th. This donation will go to the Massawippi Conservation Trust Education Fund.
Check out their great menu and while there you can see the exhibition of Louise Marois's drawings.
Thank you Elyse for you warm hearted welcome.
La Cie Vilandré 3050, ch. Capelton, North Hatley 819 794 0125 info@lacievilandré.com Village pub with a large selection of microbrewery beers and private wines. Changing menu with local flavors of the season.
Open Wednesday through Sunday
11:30am to 9:00 pm