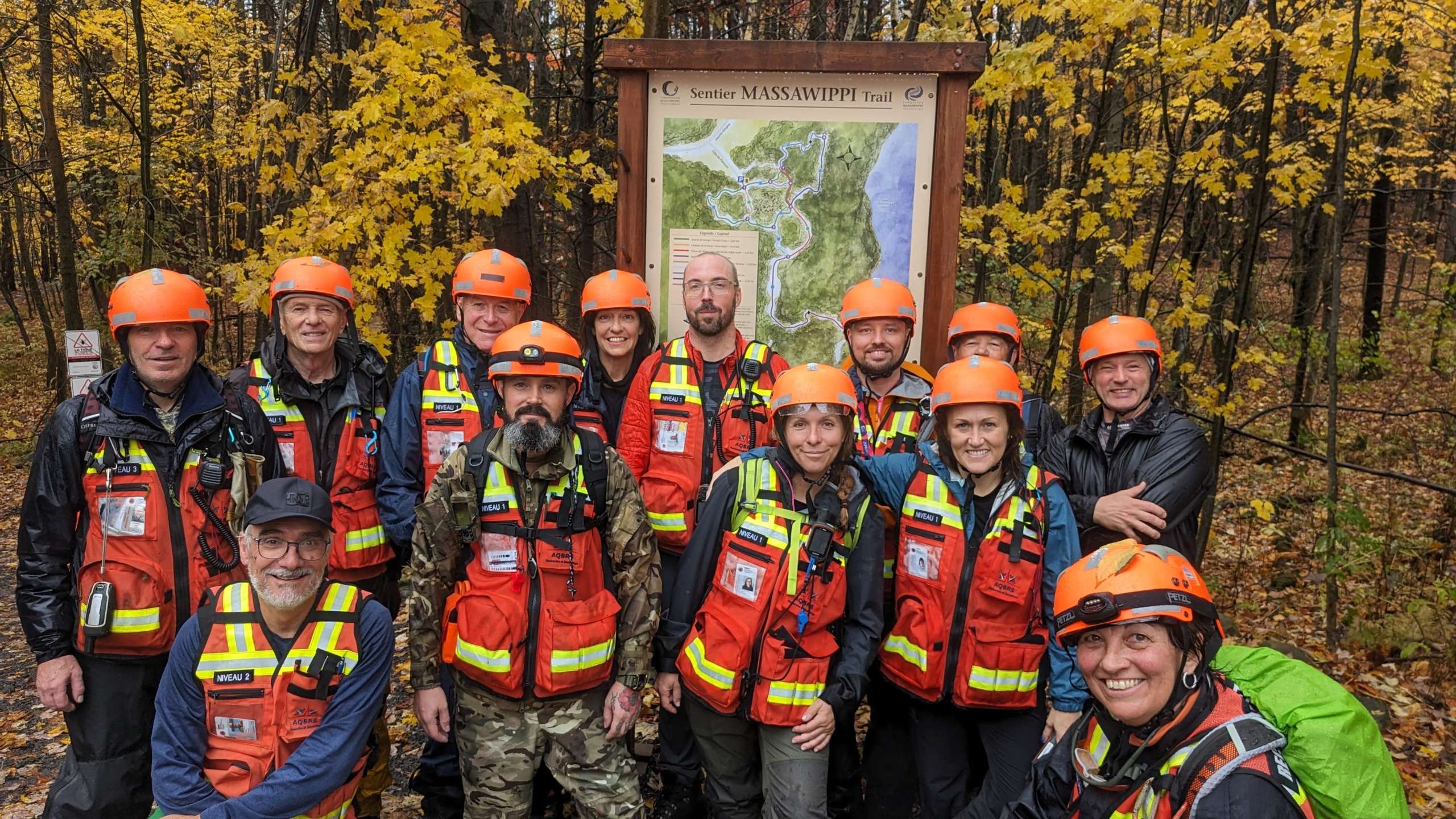 Perhaps you noticed a group of individuals wearing orange helmets and vests while walking on the trail on Saturday, October 21st? They were volunteers from a search and rescue organization who used the site for their training. Here is some information about our community and a summary of our day.
Who are we?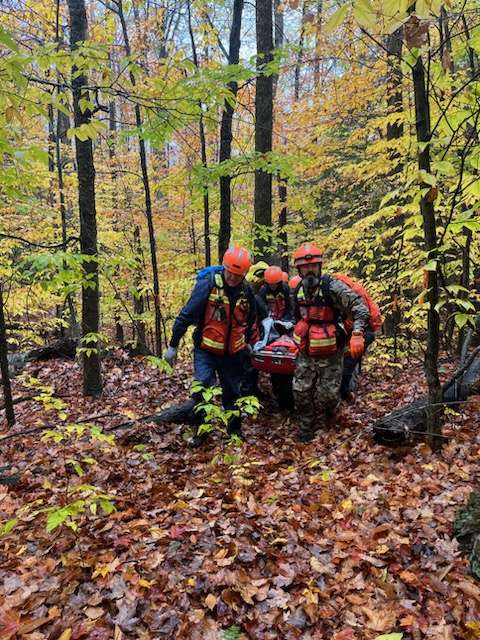 The group was founded in 2003 under the name Recherche et Sauvetage Sherbrooke Haut-Saint-François (RSSHSF). The original members, some of whom are still active, have over time provided valuable assistance through their life experience and deep involvement, and have gained recognition for the group's expertise in search and rescue. In the fall of 2021, the board of directors initiated a process to better represent members from all over Estrie. The new name Recherche Sauvetage Estrie was adopted, along with a new logo. What hasn't changed, however, is the desire and commitment of our members to help others!

Our mission 
We are a non-profit organization, bringing together volunteers from various backgrounds who dedicate their time to respond to the needs of different authorities. Our accredited ground search and rescue members are always ready to intervene to save lives. Our main mission is to provide assistance in finding missing persons, those lost in the forest, or in distress.
Trained and qualified
The group responds to requests from the Sûreté du Québec, Civil Protection, and other organizations or citizens requiring our services. We are recognized and accredited by the Association québécoise des bénévoles en recherche et sauvetage (AQBRS). In order to fulfill our mission, all our volunteers receive training in areas such as search and rescue basics, profile of a missing person, ground search techniques, map and compass skills, crime scene preservation, GPS, radio communication, etc. Volunteer training is ongoing.
Massawippi Trail
Our volunteers typically train in the area around Sherbrooke Airport, where the terrain is flat and well-known to group members. Seeking a different location for a search and victim evacuation simulation, one of our board members, familiar with the Côte du Piémont trail, suggested the location. Immediately, the President of RSE contacted the responsible party at the Massawippi Trail to request permission for our upcoming training day. The site's topography, quality of trails, and cleanliness of the forest allowed us to practice both practically, theoretically, and physically.

The course of the day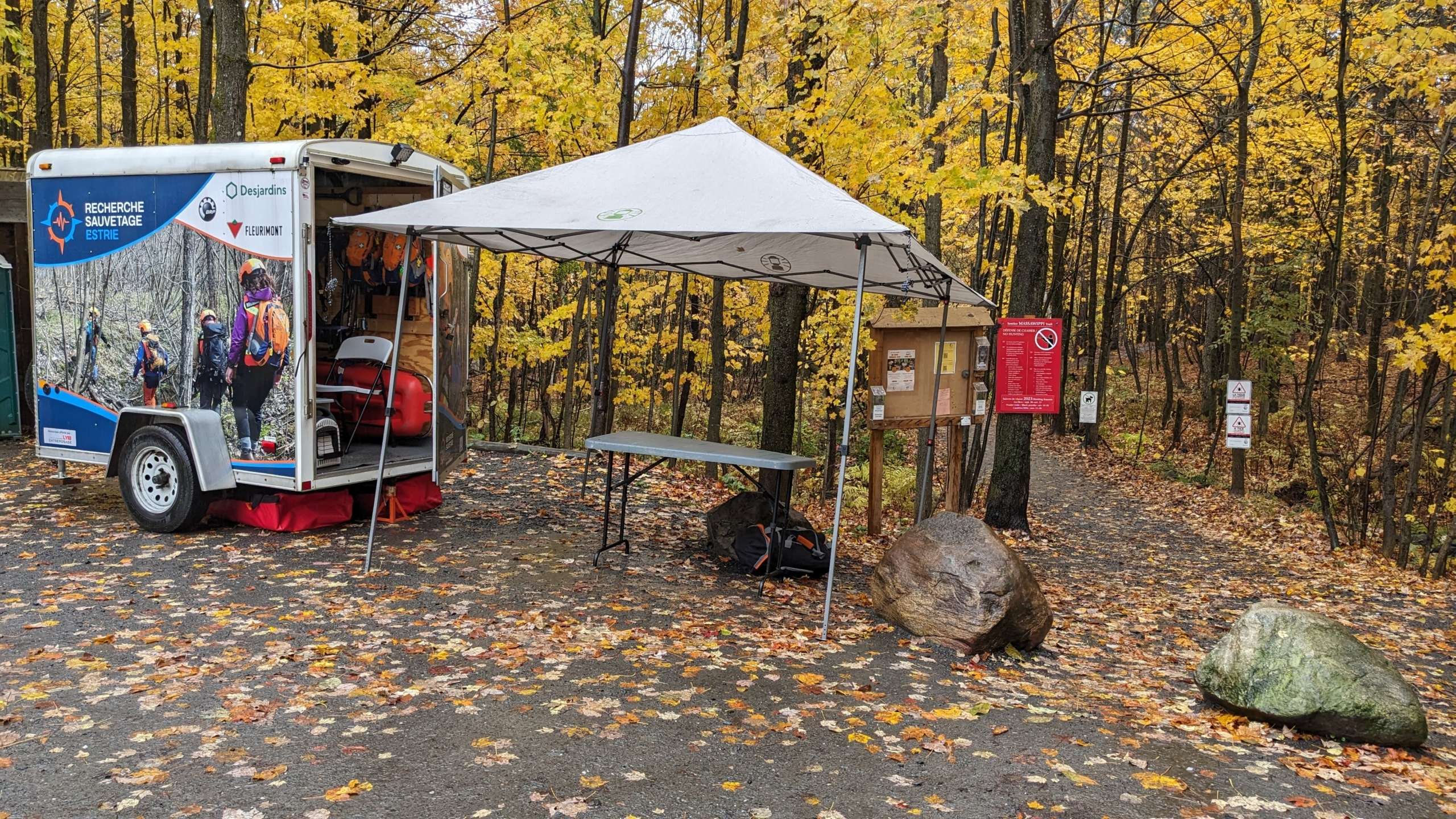 We arrived in the parking lot at 8:30 am. We had just enough time to unpack our equipment when it began to rain, and it continued throughout the day. So, we set up our shelter, and by 9 am, we gathered under the tent to receive instructions. Despite the bad weather, we were a group of 15 individuals practicing search and first aid techniques. Once teams were formed and directives given, volunteers dispersed into the trails. One member remained at the command post in the parking lot. This task is crucial because this person manages communications and monitors the trailer where all our rescue equipment and victim transport gear are stored.
We began with a trail search. To do this, we divided our group into teams of 3 to explore different trails (except for the beach trail). This search technique involved placing one searcher who walked directly on the trail, while the other two walked on either side about 10 meters into the woods. Their common goal was to find clues, tracks, or objects belonging to the lost person.
A clue was eventually found in the late morning between points 4 and 5 on the trail map. From that location, a search operation was launched with all the volunteers. We formed a search line south of the old Wippi South trail, and the search was conducted within an area approximately 200 meters deep and 300 meters wide. When the team found the person (an actor simulating spending the night in the forest, suffering from hypothermia, and having severe back pain), to add to the challenge, they spoke only in Spanish! Our volunteers had to adapt to communicate with the victim and use our stretcher with a backboard and the mule (stretcher transport system) to evacuate the injured person.
The exercise was a success, and everything was carried out professionally and with a good spirit. After returning to the command post, it was time for lunch. This was followed by an evaluation of the activity to discuss the positives and areas for improvement. Everyone agreed that the Massawippi Trail is simply beautiful! In addition to being perfect for this type of scenario, it provides good physical training. We will definitely return. In the afternoon, it was time to pack up the camp and head back home.
How to become a volunteer?
For more information about our group or to join the 40 volunteers who are at the heart of our mission, please contact Mr. Dany Chaput, the president, at 819-571-7313 or email him at chaputdany@gmail.com. The next training session starts on January 17, 2024, and there's still time to sign up. Give us a call!
We want to thank the organization for allowing us to use your fantastic terrain!
https://massawippi.org/wp-content/uploads/2023/11/PXL_20231021_172955943.MP_-scaled.jpg
1440
2560
Helene Hamel
https://massawippi.org/wp-content/uploads/2019/04/long-logo.png
Helene Hamel
2023-11-10 22:55:58
2023-11-11 12:13:46
The group Recherche Sauvetage Estrie in Training at Massawippi Trail